Welcome to this weeks blog!
---
BYC have been extremely busy with creating our show "The Cabaret Of Bizarre"…let me fill you in all about it…
---
These last few weeks our main focus has been our show creation , although conditioning is a big part of our training. We have been creating our own disciplined conditioning specific to help ourselves on what we are struggling with or want to improve on, we do this in sessions with Joe and then we also have Kat and Raquel to lead other conditioning sessions.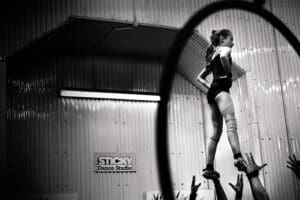 Its coming up to show time so quickly , so we have all been busy creating acts, ideas, writing scripts. We've been working with our CircusMASH teachers to improve, as they give us guidance and feedback.
The show is so great and something you definitely do not want to miss! There is a mixture of solo / duet /group acts. Circus , dance , physical theatre and a great storyline and something you will never have seen before.
Each week we perform what we have developed and demonstrate what we have changed in our acts while we give each other feedback. This is really helpful for us all to progress our acts more. We have also been working as a company creating group parts of the show and many other exiting things. We have also been working with Lee and Nate who have been a great help to us with the Physical Theatre side of things!
---
Thanks for reading guys! short and sweet this week as I don't want to spoil the show! You can purchase your tickets now!
– Annie E Wilson
---