Grab a cuppa and come on our journey of creation! It's all wrapped up chronologically in this blog. 
The Making of Polaroid
Polaroid started in Lockdown where we asked our Birmingham Youth Circus what it is they wanted to do. We couldn't do circus as we knew it… Through lots of conversations online emerged a few pro-active young people that wanted to lead their own creative projects. We called this group of young people 'The Collective'.
Over 18 months we got together every week online and in person (when we could) to bring each project to fruition. During the early months of The Collective an image of a ballerina was released by the UK government with the strap line
Rethink. Reskill. Reboot. Fatima's next job could be in cyber, she just doesn't know it yet.
 This blog is the story of how Polaroid (one of the projects) came to be. A creative reaction to this one image, encapsulating artists voices across the UK. 
"We were thrilled to receive Arts Council Funding (project & cultural recovery). We're still here as an organisation because of them. The support we received through the pandemic was truly amazing. Thank you for existing arts council. You really do help dreams become a reality"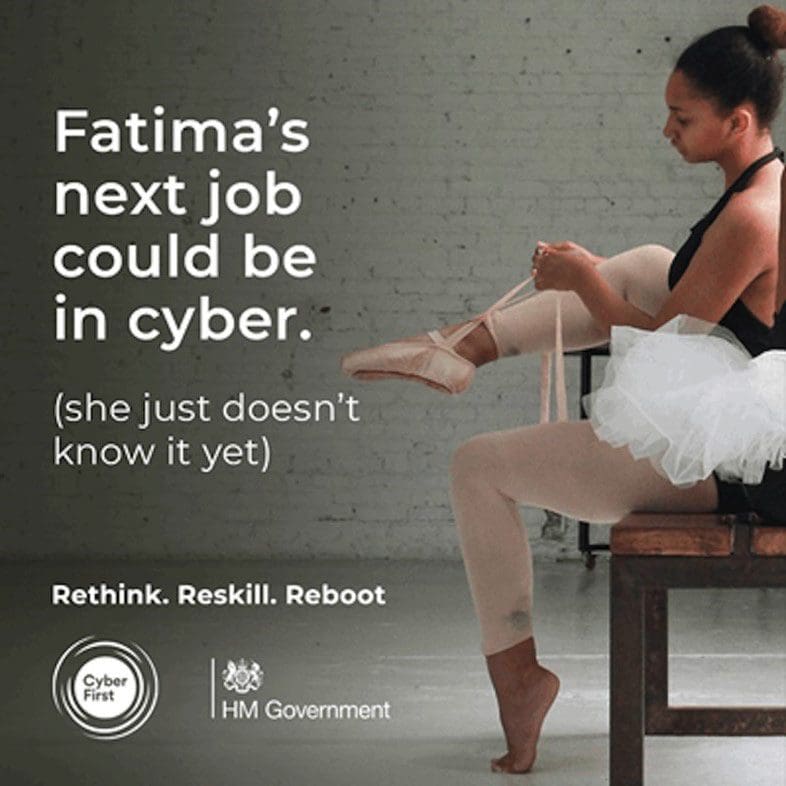 During lockdown we threw a live launch party!
Our mentors for the project were Summer & Raph from Double Take cinematic circus. We met each other in a Slow Thinking meeting created by Vicky Amedume and Upswing Aerial to bring together professionals to talk about the circus sector. They are not based in the UK so all of our collaborations and mentee sessions happened online… one day we'll meet them in person.
Greg Lewis, a very talented costume designer worked with us on creating some stunning costumes. We learned how difficult it is bringing costumes to life off a page. Hours of time was spent creating these gorgeous pieces by Joe, Andy, Alex, Greg & Jen. Sewing machines, glue guns, felt and paint at the ready!
The music was created by Usman Amin and Joe Fearn. Tom Hyland (Yes that is THE Tom Hyland from Ragtime Records, the producer of Swingamajig and curator of global band the Electric Swing Circus) produced these tracks and made it happen. He worked with some very talented musicians from around the world (A list of credits can be found on the production doc below). Josie Soden and Ben Adams as well as Usman Amin sung the vocals on all tracks, giving them heart and life. Have a listen on Spotify to our album below. There are a few songs on there that was not from this project but you'll hear in our upcoming shows.
When the rethink reskill reboot campaign was released by the Government a lot of artists, young people and our community found it to be very offensive, worrying, and not considered. After seeing this campaign the conversations in The Collective turned towards a world with no art and the impact that would have. We were living through an unknown period in a new reality and some of our community and professional employees did take the opportunity to retrain and enter into new professions. This campaign struck a deep chord and maybe for some it was time to re-think the world they was in. For those people whom performance work was their everything, it was a different story.
Polaroid is a film by Lydia White, a 16 year old Collective member and tells the story of the turbulence felt upon first hearing this campaign, where dreams of performance may no longer be a viable option as the world moves into an unknown future. The circus explores the emotion while the journey encapsulates how our mental health is affected by our perceptions of what is thrown at us. The whole project took 18 months to complete from September 2020 to March 2022. As a company and a group of creatives we have learned so much!
Dream way too big and forget not your purpose but live every day like your life is a circus!
Thank you for taking the time to read a bit about the journey of Polaroid.